Since 1952, we at Baumer electric have developed, manufactured and marketed sensor products and solutions of the highest quality, which have contributed to our outstanding reputation worldwide. We are intimately involved in every phase of development and production and consider our customers' requirements as paramount.
Inductive and Capacitive Proximity Switches
Reliability and ease of use have made the Inductive Proximity switch the sensor of choice for numerous applications inductive & capacity switchesin Automation and Robotics.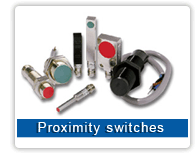 These switches can detect any metal target and are highly insensitive to harsh industrial environments containing dirt, humidity, dust and oil.
But Baumer electric is not content to stop with the 'average' range of products. Our engineers have developed miniaturised space saving versions with extended sensing distances; Sensors with Linear Analogue Outputs, and Dual Point Sensors with two adjustable outputs, stainless steel bodies and high pressure IP68/500 Bar are available.
A range of Magneto Resistive sensors for high speed gear counting, providing resolution to 0.3mm with options of A and B phase shifted outputs, simple code readers and a range of slot sensors completed this family.
Connectors with Multiport LED's to give all round indication are available for the majority of the Baumer electric products, to help with your installation.
Laser Copy Counters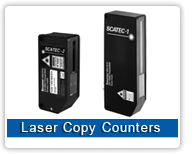 The SCATEC Laser Copy Counter edge detection device has been specially designed for high-speed lap stream counting of newspapers or magazines on a conveyor belt, or other objects with clearly defined edges.
laser copy countersUsing a patented optical sensing principal, SCATEC Laser Copy Counters operate with extremely high precision irrespective of the colour or surface finish of the object being counted.
Two models are available, SCATEC-1 and SCATEC-2, offering measuring ranges of 0 to 72mm and 0 to 43mm respectively. Corresponding maximum counting rates are 1.5 and 0.6 million copies per hour.
Extremely small edge thickness can be measured down to 0.1mm for SCATEC-1, and for optimum configuration an efficient multiple pulse suppression is incorporated. SCATEC-1 can also be synchronised to the machine cycle.
Laser Sensors
Contrast diffuse laser sensor type OZDM, has been especially developed by Baumer electric for very precise positioning tasks. It can detect Minute Shade changes within the black and white range very precisely with accuracy better than 0.1mm at the focal lengths of 80mm.baumer sensor
If your application requires long distance sensing of small objects then the Baumer electric through beam sensor fits the bill. Objects as small as 1.6mm can be reliably and accurately detected over the entire 8m operating range. The receiver has a two coloured LED indicator, which helps in adjusting the sensitivity more accurately for difficult objects.
Baumer Electric
33/36 Shivenham Hundred Buisness Park
Team Valley Trading Estate
Majors Road
Watchfield, Swindon
SN6 8TZ

Tel: +44 (0) 1793 783839
Fax: +44 (0) 1793 783814
Internet: www.baumerelectric.com